Wednesday, January 01, 2020 - Thursday, December 31, 2020
SHARING TOOLS HELLO NEIGHBOR CARD*
In the year 2020, we want to be known for sharing the name of Jesus. Our goal is to have 2020 conversations by the end of the year.
Each time you share Jesus, we want to celebrate as a church. You can report your conversations using the button above or via a card, which are available around the campus. Both sharing methods count toward the same tally, so please select only one method per share.
FAQs:
What do I report?
* The attempt - whether or not the message was received is not up to you - just share and leave the results to the Holy Spirit.

Why are we keeping track?
* Knowing you're not alone is encouraging.
* Numbers matter because people count! Each number on the tally board represents a seed that has been planted in someone's life. How can we not celebrate that!?
Watch Pastor Chad's challenge:

---
HELLO NEIGHBOR CARD:
We encourage you to connect with a few of your neighbors by asking two questions: 1. How can I pray for you? and 2. How can I help you during this time?
Think about the houses that surround yours. Print and use the Hello Neighbor Card (pdf) to connect with your neighbors. Some ideas...staple a rubber band and attach it to their doorknob, slip it in the crack of their door, or slip the corner under their welcome mat. Just place it somewhere they will find it if you're not able to approach them face-to-face.


PRINT CARD
---
SHARING TOOLS:
Here are some easy to use tools to help you share your faith:
THREE-CIRCLES TOOL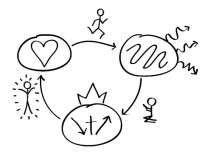 (click to watch a short video)
JOIN OUR NEXT TRAINING
---
For more information, contact:
Ross Ramsey
Minister of Education
E-Mail:


Cindy Edamura
Education Ministry Assistant
E-Mail: