Monday, November 13, 2017, 6:30 PM - 8:30 PM
This is an informal monthly fellowship reaching out to women, one sweet invitation at a time for Christ. This event is open to ladies of all ages! Our first night we will get "Back in the Groove!"
Meetings are scheduled for the second Monday of every month during the school year. Each month will have a different theme or activity. Please invite your friends, neighbors, co-workers, mothers and sisters.
Here's are the remaining dates we have planned this year:
Nov 13: Make and Take Gifts (details below)
Dec 11
Jan 8, 2018
Feb 12
No meeting in March
Apr 9
May 14
MAKE AND TAKE GIFTS:
OPTIONS ($5 each*):
Wreath - 14 inches in diameter - includes ribbon & embellishments (assistance in making also provided)
Cookie Mix in a Jar - includes jars, ingredients and tags for you to make and take and be ready to give!
Ornament Dip Mix - includes ornaments & the ingredients for tasty treats!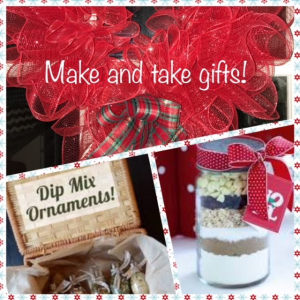 RSVP to Kristi Durham by Wednesday, Nov 8 with how many of each gift choice you would like to make.
Come for a night of fellowship, even if you feel you are NOT crafty! If you find out last minute that you are able to come, please DO! We will have a extra supplies on hand, just in case.
*$5 per item covers materials. Any funds received over the cost of materials will be donated to the FBC Allen Food Pantry. Last year, we gave approximately $250 to the Food Pantry and look forward to doing the same (or more) this year!
For more information, contact Kristi Durham.