We had a very interesting night tonight. Lots of follow-up visits were generated through many 1st touches. However, we had a first tonight and it was a very unique interaction.
One of the teams knocked on the door and the person who answered was a childhood friend of one of our team members. They instantly recognized each other and they embraced. It turns out that the childhood friend went through an incredibly tragic event several months ago and is still reeling from the effects of that tragic situation. Of course, this group got to minister to her, share the Gospel and it is an under-statement to say that there is definitely some follow-up discipleship for these reunited friends.
God ordained that visit.
-Ross R.
The lady in pink and the girl in blue both accepted Christ today. 3 circle words but using the EvangaCube for pictures b/c I don't have enough paper.
-Alyson W. [on mission in Zambia]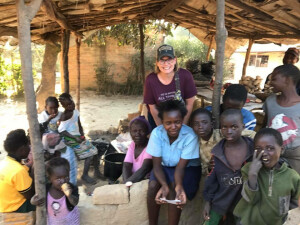 These girls are already believers..... so we taught the young lady on the right the 3-circles. On Sunday... she took us to the house of a friend (J) where we shared using 3-circles. J and her brother (I) accepted Christ.
-Heather W.