Always be prepared
Posted by on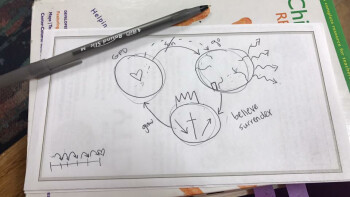 Here is my story from tonight: I'm at Preteen Camp with a church we went to many years ago. Granted, we are not in Allen, but I thought I'd share anyway.
I had a ten year old girl tell me she felt bad for her friend who doesn't have a dad and she can't imagine what that's like. But she said she kind of understands how lonely it can be because her dad doesn't believe in Jesus. She said, "I wish so bad I could tell my dad about Jesus but I just don't know how."
So I got to train a young sister in Christ how to tell her Dad about Jesus. I've got two more days with them so I'm going to try to get in a few more reps with her and some other girls who are eager to share the Gospel.
Always be prepared to give an answer to anyone who asks the reason for the hope that you have!
-Amy H.