Wednesday, March 07, 2018, 6:00 PM - 6:30 PM
2018-2019 Proposed Church Budget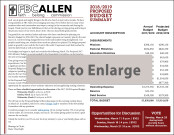 This is the first of three opportunities to discuss the 2018-2019 Proposed Church Budget.
Other meetings: Sunday, March 18 and Wednesday, March 21.
We will vote on the Proposed Budget without discussion in the morning worship hours on Sunday, March 25.
Feel free to contact Rodger Teaff or members of the Stewardship Committee with any questions.